I have been a professional Illustrator and Graphic Designer for over 20 years- born and bred in London
where I still work from a home studio. A brief period at Art College made me realise that fine art was
not for me!...so after working as Art Editor on Custom Car and Superbike Magazines (where I discovered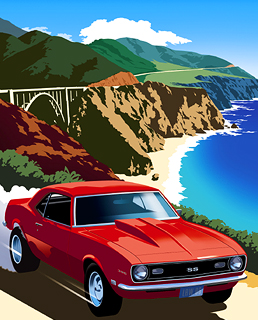 my passion for American muscle cars), I worked free-
lance for several London Design Companies.
I decided to focus on Illustration and became heavily
influenced by the poster artists of the 1930's, some of
the unsung heros of graphic design- Artists like Tom
Purvis, Joseph Binder as well as Cassandre and the
brilliant Ludwig Hohlwein.
I have worked on a broad range of projects - From
Logo and Web design to 3D rendering and Photo-
retouching: From Poster campaigns and Book covers
to Record and CD sleeve artwork for clients all over the
world.
Please take a look at the portfolio samples and contact
me if you'd like to discuss your next project...
Clients include:
Publicis New York, Alliance & Leicester, Virgin, Peugeot,
The Royal Festival Hall, Gallahers Tobacco,
Scottish & Newcastle Breweries, Shell UK.